The benefit for the OEM is the cost reduction inside automotive head light reflectors of about 25 cents for each NTC channel.
Depending on the platform the OEM can safe up to 2$ on each car or even more including tail lights !
The end customer gets a more reliable system.
Our main focus is to sell our method by a license model that a customer can integrate it under it's quality requirements in his own designs.
The method works in combination with NXP automotive  LED drivers - this is recommended not mandatory. A demo board is orderable for instant at Mousers: ASL45XASLX41

Another option is that Nucon GbR is helping you by designing parts of a software or complete LED driver power stage using the thermal sensor-less method.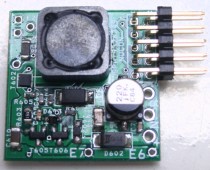 You can also buy from us  a PIC16f1765 single buck driver demo board

This regulator is a current driven switcher at about 300kHz using the comparator and op amp out of the applied micro controller, for instance set to 1A drive current.
It can be used in standalone applications or be used connected to a serial terminal. In the portable application on the right side it is powered by 8 AAA cells to provide you a superior spot with a long running time included.
For further info email us: This email address is being protected from spambots. You need JavaScript enabled to view it.